Glass Jars Recycled Decor Crafts
Glass jars or mason jars which we frequently see in our surrounding, they are made of fine glass. They usually carry some edibles and vary a lot in shape and design. Earlier they were used to save candies and such stuff but with the every passing day people are becoming more and more creative and they are doing strange things with different stuff. Just like that we would be turning these ordinary glass jars or mason jars into recycled dcor crafts. These mason jar decor crafts would be pretty handy to make, and would reflect your art level immensely.
In the very first inspiration the glass jars are hanging with jute ropes which is already a symbol of art work. Jute thread is covered all around the glass jars and they a tiny candle is lit inside the glass jars to repurpose it as a decor craft.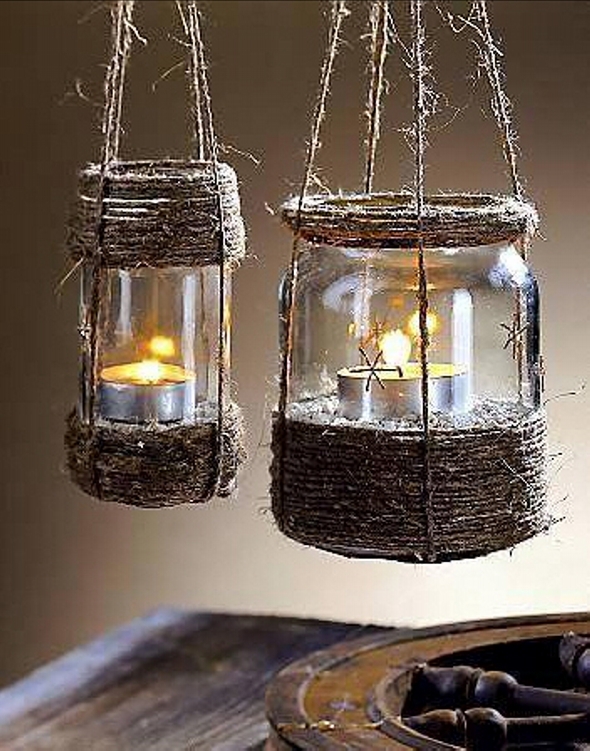 A transparent glass jar which is clean can best be used as a candle carrier because it would further make the flame prominent. Same approach is depicted in our very next project, a number of plain glass jars are turned into stylish candle jars or carriers. Use them while sauna or steam bath.

You can not just limit the boundaries of art. It flies right away with your thoughts and creativity. Just like the way these ordinary glass jars are turned into awesome center pieces after being covered with net fabric and putting in some tiny candles.

Going on and on glass jars are repeatedly recycled as decor crafts, here in this demonstration some blue colored glass jars are turned into conventional vases carrying tulips, place them in your bedroom or right in the middle of your dining table or side table, they would equally benefit you.

More ideas for glass jars recycling: