Flowers Made with Upcycled Materials
I remember making some artificial flowers in school's art class was the best thing that we used to wait for impatiently. This is probably the beginning of such indoor art crafts where we start making artificial flowers with different materials. So just to refresh those very good days, here we bring again some beautiful flowers made with upcycled materials. And these materials are going to be so damn cheap cost wise, they would be so easy to find, infact some of them would be from the daily house hold accessories. So this one is going to be a super great article for all the art lovers, just stay tuned and focused.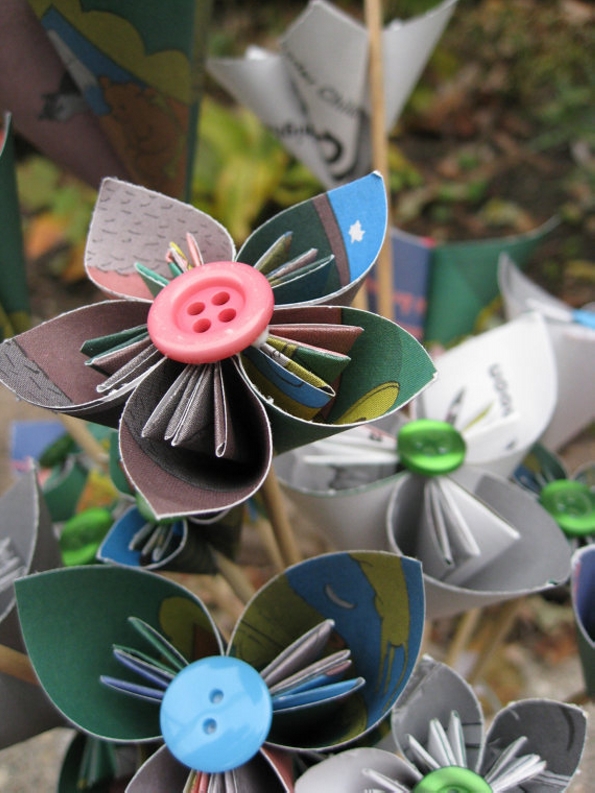 This is a cute mason jar turned into a glass vase, but just look what we have got here as the flowers exactly? Wow, they are some classic recycled material flowers, they were made by recycling the cardboard used in different book pages.

We can easily figure out that these artificial flowers with multiple colors made using the cardboard, are grabbed from some old book that had been trashed out by us or by the kids. So we thought to give it a new life, so we did it in this way.

Now this is something grand, something really big. This is basically a flowers made using the crystal glass objects, but basically this is meant to be used in the garden art craft ideas. Obviously you would have to sacrifice some of your favorite crystal glass decoration pieces, but I think this is pretty worth it.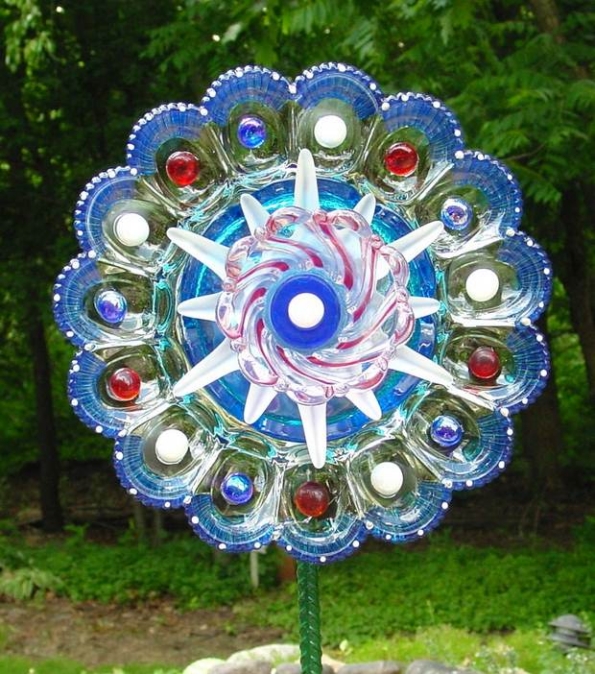 Do you remember some of our earlier tin can recycling projects? They were crazy right? But we planned to use this crazy stuff for something delicate like a flower. So ponder upon the flowers, they are recycled with tin cans, cutting them could be matter of concern so stay safe while cutting molding and twisting them.

Disposable plates, glasses and even spoons are so damn common in our lives. We frequently use them when partying out or having the guests in bulk. So after single time use, we just trash them away, this time don't do this. Use the plastic spoon heads in recycling such great flowers for your home décor ideas.

Though such rough art crafts can't be placed inside the lavish home settings but you can always use them as some art inspirations. Give them to kids so that they get attracted towards artistic activities.

I think if you have to use mere book pages and a brooch or a large button for recycling such cute flowers, this isn't so big or expensive at all. Making such delicate embellishments always polish your art skills and they practically give you a supportive hand in practical embellishment projects.

These are may be the simplest flowers recycled using the old book pages that was not in use anymore. These multi layered flowers having a shiny button on the front could best be used as embellishments on the front of present boxes or at other places where you like. Just give them a try.