So guys, what's up, especially how about your pallet wood recycling projects. How exactly are they going on? Well, as the title shows this is pretty much clear that here in this article we have got 50 exciting pallet wood projects that you can make at your own, as we call these ideas DIY. So, have a look on the practicality and possibility of all of these DIY wood pallet ideas, make up your mind and grab one out of them for your personal use or the one that suits your place and try making it at your own.
Let me begin with this very simple and straight wooden table. Well, apparently this might be lagging all the charm and colors we usually expect from the indoor wooden furniture items, but look at the usability of this rustic table. Its length makes it ideal to be used as the dining table as well.

We always urge the wood pallet crafters to not focus only on the typical wooden pallet projects like making some furniture items for indoor and outdoor as well, but also try using the pallet wood in making some decorative items like the one we have here with us.

Making different wood pallet caricatures using the shipping pallets is also an interesting activity. In this projects we make some familiar models like this long locomotive along with the train compartments which are being used here as the garden décor idea or may be as the planters that are quite fascinating to the eyes.

A wood pallet day bed is also an interesting pallet wood project. If we come towards the usability of the said wooden product, they might be many in number. Observing the simplicity of the design and structure it feels so good for the eyes and can apparently be used indoor and outdoor as well.

This outdoor pallet wood recycled table is not simply a common one that is just like the other wooden tables that we see around us, but this is made with a different approach. This is made for the wine lovers who want to arrange the bottles in a decent manner.

Wall racks are always a great idea to do with the shipping pallets as they make a prominent feature of the room interior. Not only they add much to the beauty of the room interior, but very helpful too for the storage cause and as a display tool as well.

This Adirondack shaped wood pallet upcycled chair or may be couch was made for the outdoor use. The good thing about this certain article is the shape that offers the most comfortable posture for sitting. Even the longer spells on it won't yet be tiring.

I saw this kind of pallet wooden creation at the front door of a US marine who is one of my acquaintances and is also a part time wood pallet crafter not as a profession but for the good use of time.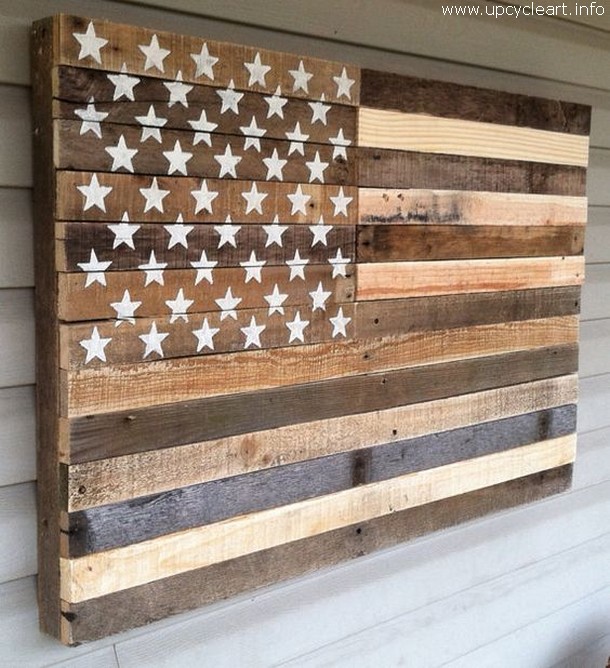 Pallet wood planters are always fascinating no matter where they are installed. They just make their appearance pretty loud being filled with some fresh green foliage. They are a source of satisfaction for the greenery lovers. And they feel really good having such awesome wooden creations carrying greenery around them.

These tiny little towers are not mere wooden pallet creations that are left here for the vision but they have got their own charm. They are actually bird houses that are meant to shelter the small creatures that are most vulnerable to the predators, so they would ensure their security.

Don't consider it to be a common wall rack that is just carrying one single bottle of beer for you, but the additional facility here is the built in opener on the top. So this is a whole package, from here you don't need to back in the kitchen to find an opener.

This grand wood pallet creation is a smart wooden cooler which has got the cooling sheet or whatever stuff is used inside the traditional coolers. It has also got a flat and long top to be used as a table and to serve, plus the wheels would make its movement much easier.

Don't be astonished to see this strange kids bunk bed. Well actually being honest this is a bit different from the conventional bunk bed ideas which usually have a bed on the ground floor as well. But this was made for the only child in the house, so maybe it can be modified when the next sibling joins the family.

When I saw it first, it looked like a watch tower. But actually this is a garden shed for the kids made with the wood pallet planks. Well, this might be used in so many ways depending on the mood of the kids.

Wow, where from the market you would ever buy such an artistically loaded pallet wooden wall shelf? Simply from nowhere. Well, this wall shelf is made suing some fresh shipping pallets. Each pallet plank is properly sanded, and they are combined together making a decent wood pallet wall shelf.

And here comes something that I am very fond of, pardon me, I am a kind of lazy bones who is always willing to have little naps no matter how short they are. But I guess such wooden pallet patio swing would be an ideal installation for whole of the family.

Are you not okay with the traditional wooden fencing that is done everywhere? And want to have something for your green landscape to enclose it? Then here is something of your interest I guess. This time try making the fence this way with studded alphabets maybe carrying first letter of your name.

Seems like a farmhouse situated in some green and hilly area. We have made this pair of tiny chairs along with a decent wood pallet table which is an ideal sitting arrangement for outdoor. A couple of persons would really enjoy the set up along with a cup of coffee.

This is basically a sophisticated wooden pallet side table with a very ravishing color combination. The decent red top along with the contrasting bright white base, this would grab the attention of the visitors immediately and is equally good for the indoor and outdoor as well.

I am already hooked up with the charm and charisma of this plain pallet wooden set of furniture which has really made a glaring appearance inside the garden. The rustic touch despite of no complicated pattern has made this wooden pallet range worth consideration.

Hmmm… want to make some royal looking atmosphere inside the house especially in patio? I think this whole set up is meant for you like the grand and wide wood pallet couches, a decent low to ground wood pallet coffee table, along with the wooden deck all around the scene is quite soothing to the eyes.

And this is just like a conference room is brought outside in the open where each required element is already available like it has got a long long wood pallet table, and on both sides it has got the long benches. And on the other side a decent wooden pallet couch too.

What would you say about this pallet wood upcycled coffee table that is partially used as a wood pallet planter as well? Serving some edibles wouldn't be that great idea on it so I think this would serve more as a decorative article.

And for this wood pallet cabinet, I am simply speechless. This has got on to my nerves and I am just wondering that how far the cunning wood pallet crafters have gone. I mean each and everything is perfect here. Jute rope has made a loud appearance, this wooden beauty is just beyond the words and explanation.

Now this is something that can easily be digested by a common wood pallet crafter like me. I mean this holds a regular structure with pretty decent shape. This multi tiered wall rack has got many portions for the storage purpose. Plus a table is also installed within the wall shelf.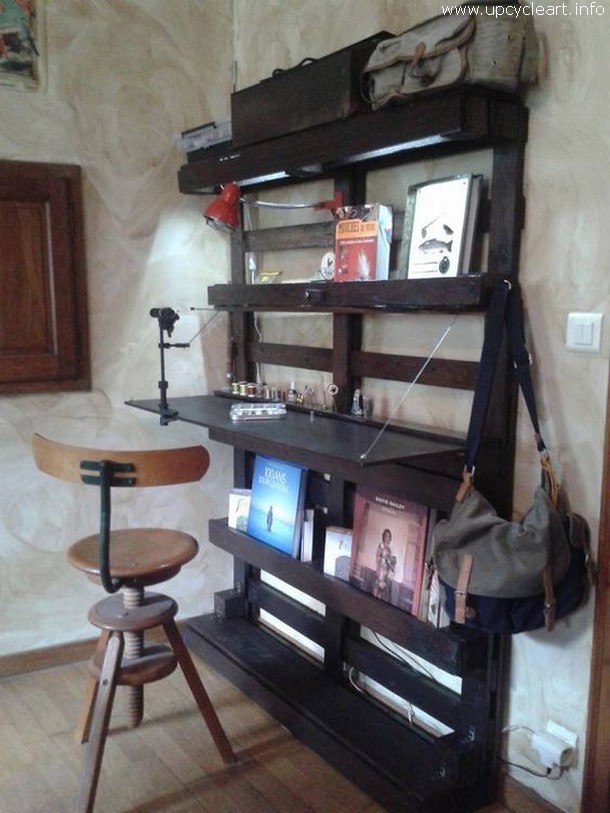 We usually see this kind of wooden shelves in grand grocery stores where each tier is reserved for a different commodity. This would be of the great help inside the house as well. Especially in the outdoor spaces depending on your needs.

This is another pallet wood swing made in a more general manner like the pattern and design of the swing is so simple and common. This seems like a common wooden pallet bench is just hanged along the trees with metallic chains to turn it into a wooden swing.

Are you worried about your expensive LCD that you have recently purchased and forgot to buy a wooden stand, or maybe you are scared to buy another expensive wooden item immediately? Then why don't you consider recycling this cheap pallet wooden TV stand that has got a racks too where all the related material can be stuffed.

This is a reasonably decorated room, rather a hall, where we see a couple of things brought from the market and few of them are certainly recycled with the pallet wood. Like the wooden flooring, and the large backdrop of the LCD and a long wood pallet table on the bottom.

Now this is a typical pallet wood stand for a reasonably big TV device which is neither too big, nor too small. It is also provided with some decent space inside where some of the related stuff can be put inside. This will take least resources and time as well.

This is another form and design of the pallet wooden repurposed TV trolley, made with a bunch of rustic shipping pallets it has got specified spaces for the rest of accessories. While the wheels on the base were reclaimed from an old broken furniture item which was long discarded.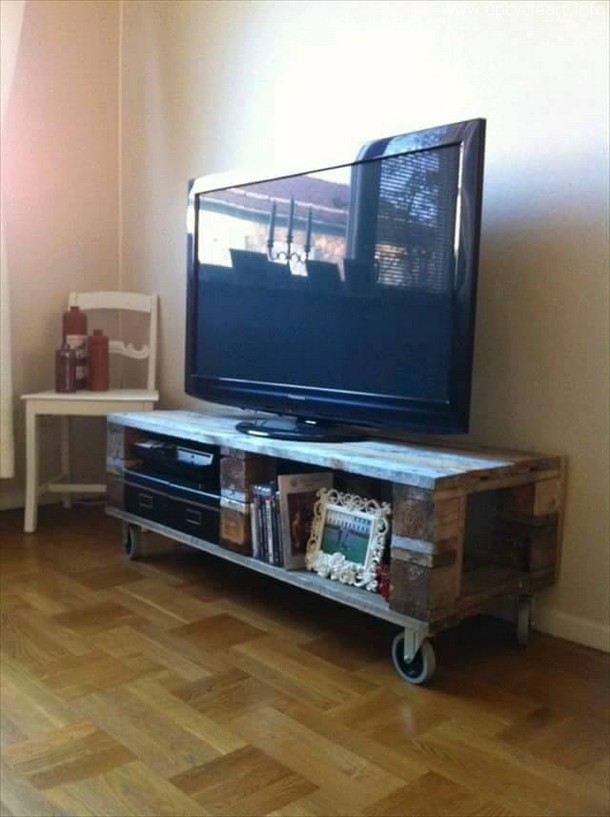 I always advise the pallet recycling beginners to get started with the wood pallet wall planters. These vertical gardens despite of having the simplest shape are very attractive. And speaking technically they are probably the easiest wood pallet creations. Just like putting together some straight wood pallet planks.

Seeing on this straight wood pallet plank or a mere wooden slab, this is not hard to find out that this wooden piece is dedicated to the beauty of the place. This is simply a wood pallet piece painted very beautifully, this is meant to be a decorative piece on the wall.

This wood pallet wall rack was also very easy to recycle. I was told to make something for the bathroom where a couple of bathroom accessories could be placed away from water and moist. So I ended up making this decent rustic wood pallet wall rack.

What is the importance of these large wooden alphabets? Well, apparently they might look like a wastage of the material, but in the practical sense they might be used in so many creative ways. Like they might be used as the sign boards, or making the first letter of your name or your partner's.

This is certainly an open and outdoor area maybe inside the premises where this tiny room is created using the wooden walls all around. But the main thing is the pallet wood repurposed bed where we have placed some straight shipping pallets and covered them with a long and wide mattress.

This room is all over stuffed with the pallet wooden appearance all around the room. This is a whole comprehensive cabinet along with a wood pallet TV console. Though the pallets are most broken and deteriorated ones, yet the overall look is pretty great and useful practically.

My goodness, did you notice this grand elegant wood pallet patio hut? Man this is an ideal place to just relax, I mean away from the fever and fret of live, in the woods, this is an awesome structure that is made using the wood pallet and would look pretty awesome in the patio.

Now again we have got a here a decent brightly painted in different shades, a wooden pallet repurposed outdoor chair that would be equally good for indoors and outdoors as well. Looking at the design we realize that a lot of work is done on the design exploration of the said chair.

Now make some comments about this lavishly decorated room where we can see a lot of work done using the wood pallets. This long dining table top is all stuffed with the fine wood pallet planks while the legs were reclaimed. While the decorative work on wall is also great depiction of the pallet wooden art work.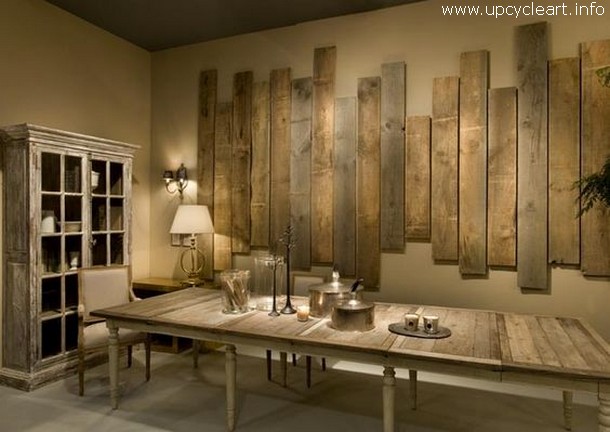 This wall shelf was again made purely with the purpose to do something decorative inside the room on the wall. No matter how broken and nasty shipping pallets are employed here, the pallet wooden creation is clear mark of some higher taste of aesthetics.

Awwwww… why did you forget to consider this tiny little low to the ground pallet wood upcycled table, don't you dare under estimating the potential qualities of this wooden beauty. This would allow you to place a couple of books inside it and also to place a beautiful vase on the top.

Most of you guys would be amazed that why did we leave most of the products in their natural shades, then the answer to this question is that first of all this is the requirement of art, secondly this is also a gesture of freedom that you guys can stain them matching to your surroundings.

This is another outdoor wood pallet recycled bench that is all covered with a shade. Though the shade is not completely covered yet you can op to cover it wholly with different materials considering your budget.

Here is probably some next level of the pallet wood recycled swing for the outdoor whether garden or the patio. We have also done some fine carving and designing on the pallet planks to make it an attractive wooden article which is not simply plain and dull looking.

You wanted some cute mirror cover right? And you are also fed up at the same time, of the conventional decorative articles that we see around us. So this time try making this rustic mirror case with any available shipping pallets. You would just need a couple of those planks.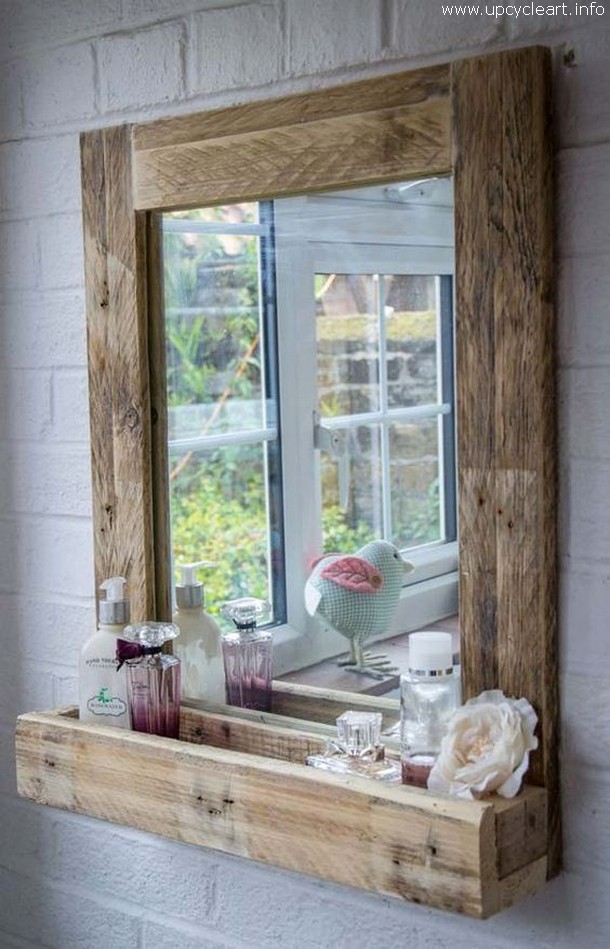 For the very first time when we see these wooden creations it feels like they are the wood pallet repurposed coffee table right? But actually they are not, they are a new kind of pallet wooden planters. Even the worst condition of the shipping pallets doesn't count here.

And on the end I just thought to finish up the article on such a great depiction of the pallet wood work that would leave you guys literally speechless and would compel you to consider for these awesome DIY pallet wood work ideas, no matter you have been into them earlier or not.